Does the presence of women reduce bias?
A measure that is often proposed to reduce the likelihood of gender bias in evaluations of male and female candidates is to make sure that women as well as men are included in evaluation committees.
This is guided by the implicit assumption that women should be more motivated than men are to treat other women fairly, and that women are less likely to suffer from gender stereotypic expectations and gender bias.
But what is the evidence for this assumption?

A meta analysis of performance appraisals of men and women, summarizing effects of 17 studies, reporting 138 effects, examined a broad sample of real life work situations (Bowen, Swim, & Jacobs, 2000). The researchers assessed the impact of different job types, gender of evaluators, and gender stereotypicality of evaluation criteria (leadership skills, social sensitivity). This review observed significant pro-male bias when only men served as raters, compared to mixed gender committees. Additionally, the gender stereotypicality of evaluation criteria had an impact: men received higher ratings when 'masculine' characteristics were taken into account, women were rated more favorably when the focus was on 'feminine' characteristics.
Recently, a study conducted a more in-depth analysis of how the professional performance of male and female employees was rated, based on content coding of written evaluation reports (Prati et al., 2019).
This study revealed that all-male committees evaluated male employees primarily on their competence, while they recruited additional performance criteria to evaluate female employees.
However, evaluation committees that had a balanced gender composition were more likely to focus on the competence of the candidates as the key criterion in all cases. This enabled them to evaluate male and female candidates along the same criteria.
Gender or something else?
Changing the gender composition of evaluation committees in itself may not be enough, as additional concerns also need to be addressed. For instance:
• Men and women can share similar stereotypes reflecting differences in social roles and career success they observe, and can be equally vulnerable to reliance on such stereotypes depending on how the evaluation procedure and criteria are structured (Eagly, Nater, Miller, Kaufmann, & Sczesny, 2019; Van der Lee & Ellemers, 2015).
• The work experiences of women in senior positions can make them aware that women tend to face more challenges as they progress in their career than men do, this can cause them to evaluate the potential of female candidates to succeed against stricter standards (Faniko, Ellemers, Derks, & Lorenzi-Cioldi, 2017).
•
The gender of evaluators often covaries with other relevant variables, such as their professional status, or their academic discipline. We know different fields of research have different definitions of excellence and publication habits (Lamont, 2009). The presence of men and women in multidisciplinary committees may result in the representation of these different expectations and standards, rather than gender per se.
•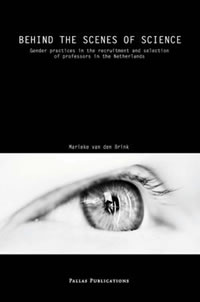 This is reflected, for instance, in the well-known study by Marieke van den Brink, who examined appointments of full professors in the Netherlands. Although she observed that a vacancy was more likely to be filled by a female candidate when there were more women on the committee, the data that was available for this study did not allow her to systematically control for differences in academic discipline (Van den Brink, 2010).
Further, the desire to include women in senior positions in all selection and evaluation committees can place an undue burden on the relatively few women working in the senior roles that qualify them for such representation (Guarino & Borden, 2017).
A survey of 140 institutions, comprising 6,875 respondents in the USA, examined the time academics spent on tasks servicing the university, for instance on committees for recruitment, student admissions, evaluation, and promotion.
After controlling for rank, race, ethnicity, and institution, this study found that women do more hours of uncompensated university service and have more different service activities than men do. This takes time away from their core activities in research and teaching, that form the basis on which their own performance is evaluated.
Placing the burden on women
• An examination of 150,000 candidates entering a public examination between 1987-2007 to be considered for functions in the Spanish judiciary, revealed that female candidates were less likely to be hired when there were more women on the committee. Further analyses showed this was the case because women over-estimate the qualities of male candidates (Bagues & Esteve-Volart, 2010).
• A similar analysis was conducted to examine evaluations of 100,000 candidates entering a national application procedure to be considered for associate/full professorships in Italy and Spain. In this procedure, candidates were randomly assigned to the 8,000 evaluators involved. The results revealed that male evaluators become less favorable towards female candidates as soon as a female evaluator joins the committee (Bagues, Sylos-Labini, & Zinovyeva, 2017).
• This is consistent with other studies showing that signals indicating that measures are taken to avoid discrimination in the organization, tends to make people less vigilant for the emergence of bias, and paradoxically increases the likelihood that women are treated unfairly (Kaiser et al., 2013).
• Further, when women call out unfair treatment of other women, this is less effective then when men do this (Cihangir, Barreto, & Ellemers, 2014).
A recent study of committees evaluating candidates for elite research positions in a national competition, revealed that committee members with strong implicit gender bias were less likely to promote women (Régner, Thinus-Blanc, Netter, Schmader, & Huguet, 2019). The impact of such biases on promotion decisions was only eliminated when committees believed that women face more external barriers in their careers.
It ain't what you do, it's the way that you do it:
That's what gets results!
(Ella Fitzgerald https://www.youtube.com/watch?v=X8fCXNTCWig)
We know by now, from reviews of different programs and systematic research that diversity initiatives do not always work as intended and can even backfire (Dobbin & Kalev, 2016; Moss-Racusin et al., 2014).
One of the reasons diversity initiatives may not work is because we focus too much on the what, not on the how.
The studies reviewed in this newsletter indicate that placing more women on selection and evaluation committees may help achieve more fair judgments of male and female candidates.
However, the fair treatment of men and women not only depends on whether or not women are represented on the committee, but also on HOW male and female committee members work together, and HOW they define and use relevant performance criteria.
Knowing this can help you monitor and guide initiatives to improve the quality of performance evaluations and hiring decisions made at your own institution. Specifying clear criteria, monitoring that all candidates are tested in the same way against the same criteria, and asking committees to account for any inequalities that emerge in the decisions about male and female candidates may be more effective than simply placing more women on evaluation committees.
Request
We call on everyone to bring other examples of, or personal experiences with gender bias in science to our attention, via the following e-mail address: info@athenasangels.nl.